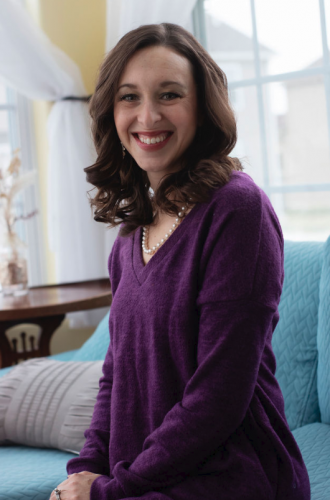 Contact Ashleigh Roberts
Phone: 630-621-5824
Ashleigh believes that the capacity for change is within all individuals. She feels that a positive therapeutic relationship is a key to the success of therapy.  She strives to create this by providing a non-judgmental and safe environment to help her clients achieve their goals. She aims to bring out her clients' strengths with her positive energy, optimism, sense of humor, and belief that each client is unique.
Ashleigh has served as a school social worker in a private therapeutic day school for the past ten years.  Throughout that experience, Ashleigh has worked with students and their families to identify struggles and create new positive paths for their future.  She has treated clients with a variety of clinical concerns such as autism spectrum disorder (ASD), depression, bipolar, anxiety, ADHD and reactive attachment disorder (RAD).  She provides an integrative approach to therapy, with an emphasis on encouraging her clients to develop the skills necessary to advocate for their needs. She believes that the use of positive coping skills is a powerful tool.  Ashleigh is experienced in multiple therapeutic modalities and has led group therapies in cognitive behavioral therapy (CBT), acceptance and commitment therapy (ACT), dialectical behavior therapy (DBT), and social skills. Ashleigh utilizes therapy to help her clients feel comfortable processing difficult situations, to identify negative patterns and work toward leading a value driven life.  From providing services in a school setting, Ashleigh has the unique knowledge of individual education plan (IEP) documentation and collaborating with school districts, outside agencies and families.  
Education
Ashleigh Roberts earned her Master of Social Work degree (specializing in School Social Work, earning at Type 73 certification) from the University of Illinois at Chicago; interning at a middle school in the northwest suburbs. She also earned her Bachelor of Social Work degree at Illinois State University, interning at The Baby Fold, in the adoption department. She is licensed by the state of Illinois as a Licensed Clinical Social Worker and certified in CPR and CPI.